Home Staging Service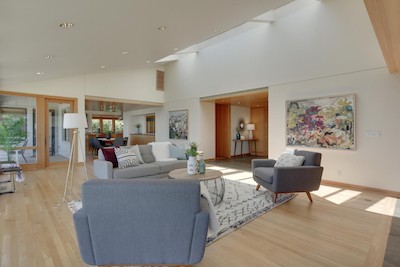 Staging made easy!
Do you need to stage a property in the Portland metro area? Let's get some art on your walls with my turnkey service! I will consult, deliver, install, and de-install all artwork in a timely, professional, and careful manner.
I work with real estate agents, staging companies, and home owners. No job too small. I can stage your whole house or hang one painting.
You can stage a whole house with paintings for three months for around $700 (see below price structure).
All paintings on this website are available for rent.
Contact me if you would like more information.
Pricing:
• $300 one-time set up fee. Includes consultation, delivery, installation, and de-installation. (This fee is negotiable for smaller jobs.)
• The fee for each painting is 5% of the sale price. This covers the initial rental period (up to three months from install date).
• The fee for each additional month after the initial rental period is 2% of the sale price of each painting.
Example of 12 paintings:
$200: 4 paintings @ $1000 sale price
$120: 4 paintings @ $600 sale price
$80: 4 paintings @ $400 sale price
$300: set up fee
----
$700 total for up to three months
$160 each additional month